M. D. Woods
The Big Easy vs. The Big Hard
Literary Tales of Two Cities of Post-Katrina New Orleans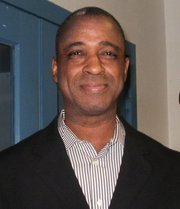 M. D. Woods, an independent researcher, historian and author of a forthcoming seven-part book series, spent ten years documenting Post-Katrina New Orleans and interviewing hurricane responders, survivors and volunteers.
The first of the two anticipated literary projects to come from Woods' New Orleans research and personal odyssey will be, CONTRAFLOW: A Katrina Heptalogy; an epic nonfiction narrative about the 'Big One' striking the 'Big Easy'. His writing style steers clear of the criticisms. Woods places the reader write in the middle of the Katrina Response, while allowing them to come to their own conclusions. Just the facts placed in their appropriate sequence of events, told through the eyes and experiences of the survivors and responders, through the mind and words of Woods.
Woods rhetorically asks, "What is it that we don't already know about the Katrina Response?"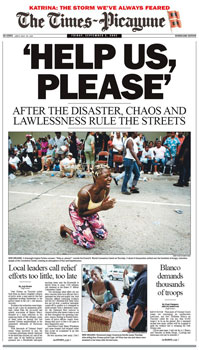 And facetiously states, "It was Pres. Bush's fault, wasn't it?"
Seriously though, when Woods is asked point blank does he believe that during Katrina the US government withheld aid and comfort to Americans who were Black like him; his standard response for the past five years has been an emphatic 'NO'. Then how does one explain the heartbreak-ing world wide televised images that came out of the Morial Convention Center on Sept. 1, 2005? "Help Us, Please!"
The dire headlines led Woods to say to his people, "Okay, I gotta help those people." He dropped everything, placed his life on hold in Southern Nevada and joined the Katrina Relief Efforts. It did not take long for Woods to realize that his purpose would be to research the Katrina Response inde-pendently and document his own spiritual journey through the disaster and recovery zone called New Orleans; and research, journey and document he did!
So it is asked again, how does one explain what we all saw on TV that sad and shocking day that Woods refers to as The Events of 9/1? According to Woods, aka "The Katrina Biographer," a series of Katrina Aftermath events that started with the rumor of a so-called eminent gang riot being shared with a local government official on 8/31, transformed Katrina from a mega natural disaster to a mega man-made disaster on 9/1.
As far as the aforementioned widely accepted "Bush's Fault" conclusion, it is Woods' theory that it was Bush's blame-accepting campaign a week after the storm that essentially halted the search for any other causes for the man-made disaster that he calls the Katrina Response "Perception."
When asked why does all this matter today Woods responds with, "Most of us do not remember how the citizens of New Orleans were portrayed during the first seventy-two hours of the disaster; e.g., the looping of the same looting images over and over. All that changed after the 'Help Us' images, which immediately led to America and the world opening up their collective hearts to help the people of New Orleans." Woods goes on to say, "However, the heroic Katrina Responders, as a whole, have yet to made whole. Many of them to this day still get that look when people find out they are a Katrina Conflict Veterans. It's my belief that Americans just have not been presented with a plausible alternative response theory.

This is about to change. 'If it pleases the court of public opinion…'"
CONTRAFLOW will tell a much more complete story of Katrina; what really happened in New Orleans minus the blame, political agendas, race-carding, demographic stereotyping, media sensationalism and the author's OWN OPINIONS. "After ten years I have a lot of thoughts on the subject," our featured author Woods says. "But what the public needs are the facts told in their proper sequence of events. It is in the timeline where the truth about Katrina lies. Hence, I reiterate, 'Just the facts Ma'am!'" Woods is dedicating his extensive literary account of the largest rescue mission in American history to those who were affected by Hurricane Katrina; to ALL Katrina Responders.
| | | |
| --- | --- | --- |
| | | |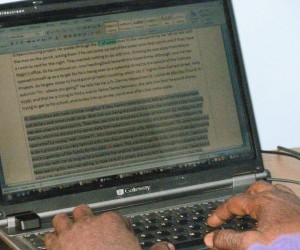 Treme Press will post more information soon about Woods' second literary project. A fictional narrative about a adventurous, autodidact, highly confidant, critical thinking, Baptist-raised, Midwestern-born, writer who ends up in Post-Katrina Creole New Orleans, during the Repopulation, Recovery and Re-construction Eras. Back in his ancestral state of Louisiana, he joins forces with a voluptuous, highly educated, independent, under confidant, Catholic-raised, New Orleans 7th Ward-born Creole woman. A muse to the protagonist. A social insider. A partner on a flood damaged pot-holed filled Uptown New Orleans boulevard to rebirth and redemption.
It is being described as a combination of Black Like Me (1964), meets Mandingo (1975), meets She's Gotta Have It (1986), meets The Bonfire of the Vanities (1990), meets Groundhog Day (1993), meets The Pelican Brief (1993), meets Eve's Bayou (1997), meets Rain Man (1998), meets A Beautiful Mind (2001). The New Orleans A.D. "After Disaster" Book Series has no publishing dates set as of today. Please follow TP on Facebook and Twitter for project updates; and Woods on his above featured social media profiles, and/or his below Twitter handle. You can also visit the Afromation Highway website. Bonswa!